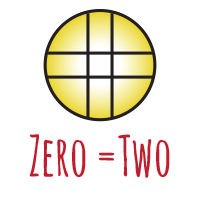 Zero Equals Two is a blog on magical news and culture sponsored by U.S. Grand Lodge, O.T.O. A diverse collective of contributors comb the worlds of magick, art, science, history, philosophy, and more every day for articles and events of interest to Thelemites and other modern free-thinkers and explorers, collecting them on this blog for your enjoyment.
Recent posts
Summer Update From Hadean Press
2019/07/22

Erzebeth from Hadean Press just posted a Summer update. Have a look!

"Since I missed the Spring update this year, we'll have one now, here at the beginning of summer. I began writing this on an appropriately sunny morning which made a pleasant change from the clouds and rain that had covered us since we returned from London at the beginning of June. Now we are back to cloud again.

"London is what I'd like to talk about first as I can't imagine posting a Hadean update without at least mentioning the Magickal Women Conference, which was held on 1 June in South Kensington. I still can't find the words to describe how incredible it was for me to help organise something so magnificent, to bask in the wonder that was forty world-class presenters gathered under the same roof, speaking to a crowd of smiling faces. By popular demand, we are doing it again in 2020, so let's get this update underway.

"Events

"The Magickal Women Conference: 6 June 2020, London. Please visit the website for details – there aren't many up yet, but we'll add to it as we firm up the day.

"The Saint Cyprian Symposium: In association with the Magickal Women Conference LLP, Hadean Press is hosting the Saint Cyprian Symposium on 21 March 2020, also in London. Details will be announced in early July, but what I can tell you now is that this will be a small event with 6 or 7 leading authorities gathered to share their knowledge about the literature and magic of Saint Cyprian. I know this is a terrible tease; bear with me as I finalise some details before making a proper announcement.

"Books & Pamphlets

"The following titles are at the top of my list; others are also forthcoming but I'm feeling a bit lost in my own queue at the moment. Please allow me to focus on these and then we'll get to the rest.  

"Papa Legba: A Workbook : A forthcoming Guide to the Underworld by Ya sezi Bo Oungan (aka Joseph Alexander Robicheaux) scheduled for imminent release.

"Cyprian's Monster (my affectionate working title of José Leitão's next book, which is scheduled for release in late 2019) : This book is my primary focus, and if I am scarce online, it is why. This book follows the trail of Cyprianic literature in Iberia and contains numerous translations of prayers, periodicals, and Books of Saint Cyprian. It will come in at least 600 pages, probably more. This book has deepened my own Cyprianic practice immeasurably, and I am so enthralled by it that I (drunkenly) offered to speak at the 2020 Glastonbury Occult Conference about Saint Cyprian and his books.

"Conjure Codex 4 : Submissions are now closed; we have a full table of contents which will be announced in due time along with the publication date.

"Queen of the Seven Crossroads : A short work by Humberto Maggi, to be released in two editions: standard hardcover and paperback."

More deets here:

https://www.hadeanpress.com/news/summer2019.

A Feast for Ourda
2019/07/22

Tomorrow, July 23, is the birthday of Rose Crowley, the medium and seer who helped to bring The Book of the Law into the world, was born Rose Edith Kelly in 1874. The first child of Blanche Bradford and Frederic Festus Kelly, she married Aleister Crowley 12 August 1903 to escape an arranged marriage. It was on their extended honeymoon that she told her husband, "They're waiting for you!" The Prophet of the Lovely Star began to call her Ourda the Seer.

To celebrate Rose's birthday, please enjoy this lovely cake.

Persian Love Cake

Ingredients

Candied rose petals
2 large egg whites
½ cup sugar
Petals from 2 organic roses

Cake
1 cup cake flour
14 tbs baker's sugar or superfine sugar, divided
1 ½ tsp baking powder
¼ tsp coarse kosher salt
3 large eggs, separated
6 tbs water
¼ cup canola oil
1 tsp grated lemon peel
¼ tsp whole cardamom seeds (removed from about 5 green cardamom pods)

Frosting
2 ½ cups chilled heavy whipping cream, divided
Pinch of saffron threads
⅔ cup powdered sugar
1 tsp rose water
2 tbs natural unsalted pistachios

For candied rose petals:
Whisk egg whites in small bowl until foamy. Using pastry brush, brush rose petals on both sides with egg whites; sprinkle on both sides with sugar. Dry on nonstick rack at least 6 hours or overnight.

For cake:
Preheat oven to 325°F. Butter two 8-inch-diameter cake pans with 1 1/2-inch-high sides. Line pan bottoms with parchment paper; butter parchment. Sift flour, 7 tablespoons baker's sugar, baking powder, and salt into large bowl. Whisk yolks and next 4 ingredients in small bowl until smooth. Add yolk mixture to dry ingredients; whisk until smooth. Beat egg whites in medium bowl until soft peaks form. Gradually add 7 tablespoons baker's sugar; beat until whites resemble thick marshmallow fluff. Fold whites into batter in 3 additions. Divide batter between prepared pans. Bake until cakes are golden and tester inserted into center comes out clean, about 25 minutes. Cool in pans on racks 15 minutes. Turn out onto racks, peel off parchment, and cool completely. (Can be prepared 1 day ahead. Wrap and store at room temperature.)

For frosting:

Combine 1/2 cup cream and saffron in small saucepan. Bring to simmer. Remove from heat; let steep 20 minutes. Chill until cold.
Beat remaining 2 cups cream, powdered sugar, and rose water in large bowl until soft peaks form; strain in saffron cream. Beat until peaks form.
Place 1 cake layer, flat side up, on platter. Spread 1 cup frosting over. Top with second cake layer, flat side down. Spread remaining frosting over top and sides of cake. Chill at least 1 hour and up to 6 hours. Garnish cake with rose petals and pistachios.

Want to learn more about Rose Edith Kelly Crowley?

False Prophets of a Damned Nation
2019/07/22

This past Spring, the New York Times Book Review published a review of American Messiahs: False Prophets of a Damned Nation. The book looks at alternative religions that have arisen in the U.S. since the late 18th century through to the 20th century. It apparently boils down the main operating tenets of most of these to: leaders demanding total obedience, followers leaving their family and communities (Liber Cheth anyone?) to join the flocks of such leaders and control exerted over follower's sex lives. Interestingly, the membership of many of these religions were predominantly female, though most of the leaders (but not all) were male. Most of these faiths revolved around a doctrinal core referred to as New Thought which does contain some parts that might ring a bell with Thelemites:

"Other scholars have traced this mishmash of mind cures, millennialism, mesmerism, spiritualism, theosophy and other strains of pseudoscience and mysticism. The central idea of New Thought spirituality is that all humans possess a divine essence. God, or Spirit, is everywhere, and once we learn its secrets, we can manipulate reality with our minds. Faith is not a gift or a comfort, but a superpower."

The sect that called itself Koreshan Unity had some interesting applications in mind for the superpowers they sought"

"'Dr' Teed dabbled in alchemy, astrology and electrotherapy. He advocated celibacy in order to redirect sexual energy to the brain, which would in turn cause 'combustion' in the pineal gland. 'The explosion would cause the production of gametes to cease entirely, allowing the body to regenerate to the bisexual completion of pre-Adamic man,' Morris explains.

When Teed himself transformed into a bigendered deity — which would happen soon, he promised — he would destroy the cruel capitalist system and inaugurate a 'New Order of celibate socialism.'"

Read the whole review:

https://www.nytimes.com/2019/04/26/books/review/american-messiahs-adam-morris.html?searchResultPosition=2.

Sean Lennon's Earlier Foray Into Thelemic Imagery
2019/07/19

By now everyone's familiar with The Claypool Lennon Delerium's homage to Jack Parson's "Blood And Rockets" from their sophomore album South of Reality. Interestingly this is not Lennon's first reference to Thelemic magick. In 2014, his band THE GOASTT: The Ghost of a Saber Tooth Tiger, co-led by Charlotte Kemp Muhl released a video for the song "Animals" from their Midnight Sun album that paid homage to Kenneth Grant, and frankly I see some scenes that seem very much inspired by a certain magickal fraternity's central public and private ritual. But have a look, judge for yourself.

https://www.youtube.com/watch?v=KhcR4rdzzoM.

 

Giving Sexual Feedback Without Crushing Egos
2019/07/19

My ecstasy is in yours. My joy is to see your joy.

It's difficult to feel permission to give a lover criticism, even if it's constructive. Spending intimate time with someone implies that one doesn't want to hurt their feelings. In fact, one hopes that one wants to be a positive influence in a lover's life.

It can be done!

Everyone's different. What works for one person may not work for another. Letting a partner know how to give one pleasure can only increase joy.

Bedsider offers "6 ways to manage those tricky conversations," below:

Mix your feedback in with dirty talk
Focus on the positive
Let the non-verbal do the talking
Show them how you do it
Take it outside the bedroom
Be direct but be kind

How to give feedback in bed without crushing your partner's self-esteem.